With this simple trick you can always have your favorite YouTube channel at hand from the menu of your Android TV or Chromecast
One of the great features of Android TV (or Google TV, its most up-to-date version) is the freedom it offers the user. And it is that it is usually one of the preferred operating systems due to its large library of applications, customization options, compatibility with a multitude of streaming platforms, ease of use and much more. Users can customize a myriad of main menu items to their liking, as well as create highly useful shortcuts to their favorite apps.
If you want to speed up the process of opening YouTube and going to your favorite channel, you can also use the options provided by the Android TV main menu to have direct access to the content you see on the platform. In this article we will tell you how to place a section to your favorite YouTube channels so that you always have it at hand in the main menu and thus waste less time.
A direct access to your favorite channels from the main menu
Android TV allows you to customize which apps and content you want to display on the main menu. If you look, a little further down you have the sections dedicated to each subscription platform and the latest titles you've seen on them. Our mission in this regard will be to go down to the last option, where we will find the possibility of modifying which platforms appear in the menu. In this way, in our case we will choose YouTube.
Once YouTube is selected, we are presented with five options. The idea is to make only our subscriptions are shown and disable the rest. If the subscription option does not appear, it means that you have not started your session in the YouTube app. When you start it, give it time and shortly you will see the option.
When we have configured the panel so that only subscriptions appear, then we go to the newly created section of YouTube and we move it all the way up to always have it at hand.
When you have done this, you will have all your favorite channels at your disposal already hit click. The only thing you have to make sure is to subscribe only to the ones you see the most. In addition, it is also a good way to always have channels that are always broadcasting live at hand and thus enter directly from the main menu without going through any other section.
If you want, you can also create an alternate YouTube account for just be subscribed to the channel that you like the most and thus always have a single channel in view in your main menu. You can also do the same with the SmartTubeNext app, which is just like YouTube but with tons of advanced features.
If you wish, you can also map any of the buttons on your controller remote to create shortcuts to your favorite apps or a link to some feature on your TV. This is possible through third-party applications such as Button Mapper or tvQuickActions Pro, changing the function of any button that we have on the remote and facilitating access to the content that we want to see.
In Xataka Smart Home | I have tried LibreTube on my Smart TV and on a Fire TV. An Open Source app to watch YouTube without the limitations of the platform
How to watch Orange TV on Kodi. These are the advantages you have compared to using the application or the deco
We're talking about Kodi again. A few days ago we saw how the application launched a new version of the app for all the operating systems in which it is present and now it's time to see another tutorial for further exploit the features of this multimedia center.
If we have already seen the possibilities of Kodi when using it to access HBO Max, Disney+, DAZN, Netflix, Pluto TV, SkyShowtime and even to watch DTT, record programs, to play by installing an emulator or use it to access Plex, now it comes a new installment in which we are going to see how it can be take advantage of Kodi to watch Orange TV.
Kodi and Orange TV all in one
To begin with, the first thing to do is prepare the necessary accessories. You can find them if you access the GitHub website where they develop the project and download the script first and then the video plugin.
With these plugins installed, the process returns to normal. It's about doing the first "Settings" of Kodi, by clicking on the gear icon that appears on the main screen.
Then you must look for direct access to the "Add-ons" within the "Settings" in "System". It is the second box that we will see between "File Browser" and "System information".
At that point you have to click on "Install from a ZIP file" and choose the script file you downloaded.
Then you must repeat the process and again, you must go to the "Add-ons" screen, click on "Install from a ZIP file" and choose the second plugin you have downloaded.
With these steps taken, you can now go to "Video add-ons" and you will see how it appears "Orange TV Spain".
At that point, all you have to do is set username and password from your Orange TV account.
In this way, you only have to return to the initial screen and You can now watch Orange TV from Kodi as if it were a normal channel.
Improvements for using Kodi
However, in addition to having everything in a single application, you can also access a series of improvements within the "Settings" section in the Orange TV add-on.

You can ask the app that only shows the content included in the subscription so that you will not see the content that you do not have available and that you cannot play, making the search easier, above all.
You can also ask that shows the program currently broadcast that is broadcast on each channel.
Access extra information of the series or movie with details of the actors, director, year…
If your TV or device does not support HD, there is an option to make it play in HD.
Modify subtitles to make them more readable…
In Xataka SmartHome | This is the hidden option that Kodi hides that will make you watch your favorite series and movies even better
three tricks to find the ideal place
If you have problems with your home Wi-Fi and after trying different tricks to improve stability, speed or coverage in different parts of the house, you decide to buy a Wi-Fi repeater, two pieces of advice: the first is not to get too carried away and opt for this device due to its low price, since others such as a PLC, another more powerful router or a mesh network may suit us. If the Wi-Fi repeater is the most convenient option, then it is not enough to just connect it and that's it: It is better to keep these tips in mind to maximize the usefulness of a WiFi repeater.
The idea is to place your WiFi repeater in the ideal place and configure it properly to get the most out of it, so that our wireless internet benefits and, therefore, us, since we can enjoy a more stable and faster connection. Go ahead that Not all WiFi repeaters are the sameHowever, they do have common characteristics inherent to their operation.
Where to place the Wi-Fi repeater
The theory says that we should place the Wi-Fi repeater in an intermediate place between the router and the places where we have connection problems and want to improve it and that will be the base premise. From here, it is better to take into account other factors that allow us to take advantage of the full potential of the device.
Interferences? No, thanks
Just as we should not place the router anywhere, both to maximize its coverage and to reduce interference, something similar happens with the Wi-Fi repeaters, which also suffer a drop in performance when they are close to certain devices due to their exposure to other signals.
Thus, it is recommended move the Wi-Fi repeater away from Bluetooth devicessince the 2.4 GHz frequency in conjunction with this can result in interference.
In addition, do not place it close to other devices, both because of these interferences and because they could suffer an increase in temperature as a result of heat dissipation. Finally, avoid nearby thick walls, as the signal could be weakened.
Eye on the distance repeater – router
As we explained above, the basic thing is to place the repeater halfway between the router and the black point of the connection, but sometimes we are tempted to place it as close as possible to the area with poor coverage, thinking that this will solve it. Big mistake: the repeater needs to receive a good signal.
So spend time exploring that middle ground with a strong, stable signal. looking for that balance between strength and proximity.
Don't settle: take tests
You have already found an area moderately clean of interference and with a good signal that promises. Beyond something qualitative as you see quite a few lines on the Wi-Fi icon, it is worth it Stop and do some tests before making the final decision.
So, grab your computer, mobile phone or tablet and run some Wi-Fi speed tests to make sure. Our recommendation is that you do not limit yourself to just one test: take the test at different times of the day to know what speed and power will reach the device, as well as potential outages. Maybe you'll get a surprise that makes you think twice.
Via | RedesZone
In Xataka Home | WiFi repeaters are not a magic solution for all cases: these are the best alternatives according to each situation
"I have tested more than 50 robot vacuum cleaners and these are the ones I recommend putting in the cart on the next Prime Day"
It is increasingly difficult to have a clean house due to the stressful pace of life we ​​lead. Robot vacuum cleaners have become a great ally to achieve a floor cleaning made easy and by pressing just a button or programming it from your mobile.
Now that the next one is approaching Amazon Prime Day (which will be held on October 10 and 11), we have spoken with Eva Rodríguez, technology editor at Webedia, to recommend some models that we can take into account.
Furthermore, in its buying guide for robot vacuum cleaners, you will be able to discover all the necessary characteristics to look for when purchasing a product of this type.
Xiaomi Robot Vacuum S12: the best in value for money
With a usual price of 299.99 euros, although it is now on sale for 219 euros, this Xiaomi robot vacuum cleaner has a LDS sensor with 360º detection rangewhich allows for precise positioning and distance measurements.
Its water tank is intelligent and, in addition, this robot has zigzag and Y-shaped cleaning routes and, for scrubbing, it does so in an S-shape and also in a Y-shape. Its suction power is 4,000 Pa. and the 3,200 mAh battery provides autonomy of 130 minutes in standard mode.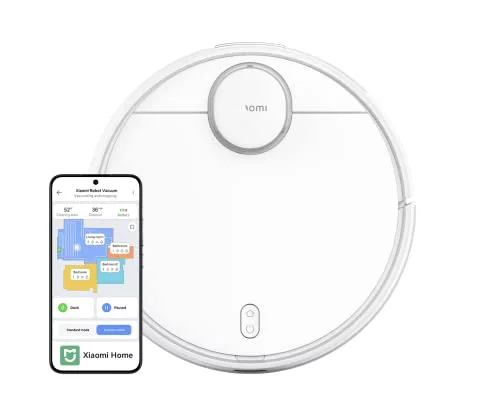 Xiaomi Robot Vacuum S12 – Robot Vacuum Cleaner and Floor Mop
*Some prices may have changed since the last review
iRobot Roomba i7+: a real beast for homes with pets
With a recommended price of 599 euros, it is now on sale on Amazon for 529 euros and is one of the robots that, despite having been on the market for some years, is essential in homes with pets, since it incorporates pet hair tangled brushes.
It connects to your home WiFi network, so you can control it through your mobile and you can also control via voice. It incorporates selection of areas or rooms and also a self-emptying system.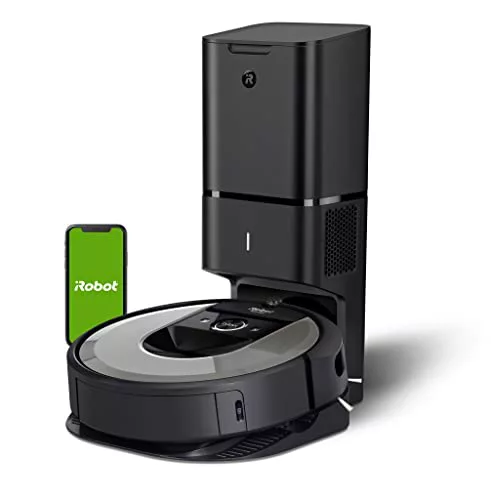 *Some prices may have changed since the last review
iRobot Roomba Combo
It is one of the robot vacuum cleaners that meet the three "B"s (Good, Pretty and Cheap). The recommended price for this iRobot Roomba Combo On Amazon it is 349.99 euros but now it has a 15% discount and remains at 296.46 euros.
His V shaped brush Allows you to vacuum dust and dirt from floors and carpets. In addition, it incorporates a scrubbing system (with three different levels) using a special ribbed microfiber cloth. It is also compatible with Alexa and Google Assistant.
iRobot Robot Vacuum Cleaner and Floor Mop Roomba
*Some prices may have changed since the last review
roborock Q8 MAX: the real beast of robot vacuum cleaners
One of the most complete robot vacuum cleaners that we can currently find on Amazon is the roborock Q8 MAX, whose recommended price is 499 euros and now you can get it for 449 euros, since it has a 50 euro discount coupon available.
Available in two colors (white and black), this robot vacuum cleaner has HyperForce suction power of 5,500Pa and also features its double rubber brush. The dust tank has a capacity of 470 ml and the water tank has a capacity of 350 ml, so it vacuums and mops at the same time. It can be controlled from the mobile phone and the battery offers a autonomy of up to 240 minutes.
roborock Q8 MAX Robot Vacuum Cleaner with Double Brushes
*Some prices may have changed since the last review
Conga 999 Origin Genesis: the most economical model
For less than 100 euros (it has a recommended price of 99 euros), it is the ideal candidate if we want to carry out simple and uncomplicated cleaning. It is a 5-in-1 robot vacuum cleaner and has two side brushes.
It has five cleaning programs and two scrubbing levels, its battery offers a range of 120 minutes and can be controlled from your mobile phone. With this robot vacuum cleaner, it can be said that it is difficult for Cecotec to give for less money.
Cecotec Robot Vacuum Cleaner Conga 999 Origin Genesis
*Some prices may have changed since the last review

More offers
If you sign up for Amazon Prime you have 30 days free trial (later 49.90 euros per year) to enjoy free fast shipping, priority access to offers, services such as Prime Video, Prime Music and unlimited photo storage. In addition, if you are a student, becoming a Prime Student costs half and you have a 90-day trial.
You can also try services like Kindle Unlimited or Audible for free for 30 days.
Note: Some of the links in this article are affiliated and may provide a benefit to Xataka Home. In case of non-availability, offers may vary.
Images | Cecote, iRobot, roborock and Xiaomi
In Xataka Smart Home Selection | Grinding coffee has never been so cheap and easy as with this electric grinder on sale from Amazon
In Xataka Smart Home | Pellet stoves to heat our home in winter: Which one to buy? Tips and recommendations