This TCL has a QLED panel and HDMI 2.1 to play in 4K
TCL is a brand that has become popular for having very competitive prices, designed for the tightest budgets looking for a smart television. The TCL 50C631 It is in PcComponentes reduced to 379 euros.
TCL 50C631 TV 50″ 4K QLED STVAnd USB 3XHDMI
Buy the TCL 50C631 at the best price
With a recommended price of 549 euroshas a 30% discount at PcComponentes to stay at only 379 euros, the lowest price there is.
What we can highlight most about the panel of this TCL television is its high compatibility with different formats, such as HDR, HDR10, HDR10+ or ​​HLG. The panel QLED reaches the 4K UHD resolution and 3,840 x 2,160 pixels. The speaker system has a 20W full power with support for Dolby Audio.
For the operating system, use the interface of Google TV, which is quite similar to Android TV. It also allows you to download all kinds of applications, use Chromecast or voice assistants such as Google Assistant.
The best thing about its connectivity is that it includes HDMI 2.1 port to be able to play in 4K and at 120 Hz. It also has a USB 2.0 port, Ethernet, WiFi 5, Bluetooth 5.0, optical audio output and input for the antenna.
TCL 50C631 TV 50″ 4K QLED STVAnd USB 3XHDMI
Shipping & Returns
Shipping costs are calculated automatically at the time of ordering, but you can calculate the cost from here. They are free on purchases over 50 euros (25 euros if we are Premium).
In addition, we have 30 days for returns. You will find more information in PcComponentes."
for less than 400 euros on Amazon
Not long ago, Toshiba televisions began to integrate the Amazon Fire TV software, so this Smart TV Toshiba 55UF3D63DA It has its own multimedia center, a 55-inch screen, and good features. Now it is at a minimum price in Amazon for 369.99 euros, compared to 429.99 euros for its previous price.
Toshiba 55UF3D63DA Smart TV Fire TV 55 Inch (4K Ultra HD, HDR10, Prime Video, Netflix, Alexa Voice Control, HDMI 2.1, Low Latency for Gaming, Bluetooth, USB, Onkyo Sound, Airplay)
A 55-inch Smart TV with Dolby Vision and 20W of sound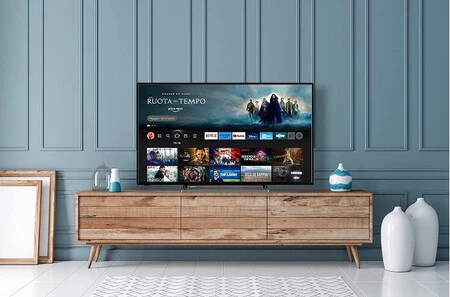 This Toshiba Smart TV has a 55 inch screenwith 4K resolution at 60 Hz and LED panel. It is compatible with high dynamic range formats such as the popular Dolby Vision and TRU Picture technology that provides fluid images with more detail.
As for the sound, it offers 20W of power, distributed in two speakers compatible with Dolby Vision. In addition, it has 3 HDMI inputs and 2 USB ports. As long as your operating system is fire OSthe same one that we find in Amazon's Fire TV, so you will have a wide catalog of applications and the Alexa voice assistant.
Images: Amazon.
Shipping & Returns
Shipments on Amazon have a cost of 3.99 euros but are free on purchases over 29 euros. Also, customers Prime They have free shipping. If you are not yet try it free for 1 month.
you have 30 days for free returns on all items sold/shipped by Amazon.
Note: Some of the links in this article are affiliated and may benefit Xataka Home
Prices and availability may change after publication
It is very practical, it has a drawer and at an irresistible price
Having our computer monitor at a recommended height is necessary for the health of our back and, if it is beautiful on top and with an extra drawer, much better. That is the case of the monitor stand ELLOVEN of Ikea best seller and that is now greatly reduced by 19.99 euros, the Ikea family price, when its original price is 29.99 euros.
ELLOVEN monitor base with drawer, white
A comfortable, practical and beautiful monitor base
Working from home comfortably is very necessary, especially if you spend many hours in front of the computer. That's why this monitor stand has a height 10cmideal to help relieve tension in the neck and shoulders.
In addition, it has a drawer to store whatever you need, such as diaries or pens, and a hole below perfect to hide the keyboard. It also has a hole in the back so you can keep your cables organized for a clutter-free desktop.
On the other hand, its design combines natural materials like bamboo that provides warmth and creates a beautiful contrast with the white aluminum structure. Its measurements are 47 x 26 x 10 cm and it supports up to 20 kilos.
Images: Ikea and Ikea by Xataka.
Shipping & Returns
shipments in IKEA from 3 euro. You can also pick up your purchases with Click & Collectin IKEA stores and ticket offices, free if the amount of your purchase exceeds 100 euros.
You have a period of 365 days for returns. You have more information on the IKEA website.
Note: Some of the links in this article are affiliated and may benefit Xataka Home
Prices and availability may change after publication
the Mi Vacuum Cleaner G10 that cleans and vacuums in a single pass (and reduced)
If you've ever wanted a Dyson stick vacuum, but it seems too expensive, then this model My Vacuum Cleaner G10 It is ideal for you, since it has similar characteristics and at a lower price. In MediaMarkt You can find it reduced by 199.99 euros, compared to 299.99 euros of its official price.
Broom vacuum cleaner – Xiaomi Mi Vacuum Cleaner G10, 600 W, Autonomy 65 min, Wireless, 3000 mAh, 0.6 l, White
This Mi Vacuum Cleaner G10 broom vacuum cleaner has it all: good power, autonomy and several brushes included
The Mi Vacuum Cleaner G10 has a minimalist and elegant design, with an ergonomic handle that makes it easy to grip. It has a 150W suction power thanks to its 125,000 rpm brushless motor. It also has a color TFT screen, with HD resolution, where you can see the cleaning status or the remaining battery level.
One of its most interesting features is that it has an intelligent brush that adjusts according to the floor, thus changing the cleaning speed, saving battery life. In addition, it can act as broom vacuum cleaner, handheld and as a mopsince it has a magnetic water tank that allows you to vacuum and clean everything at the same time.
On the other hand, it has great autonomy thanks to its 3,000 mAh battery, enough to clean the entire house without recharging. can reach the 65 minutes of use on a single charge with standard suction power.
Also included in the package: 1x lengthened connecting tube, 1x 2-in-1 brush, 1x flat nozzle, 1x small brush1x adapter, 1x water tank, 1x mop, 1x power adapter, 1x user manual.
Images: Xiaomi.
Shipping & Returns
In MediaMarkt shipments are free on purchases over 49 euros (except bulky products). You can also pick up your order, free of charge, in all its stores. You have 30 days for returns. You have more information on the MediaMarkt website. In addition, you get a 10 euro discount if you subscribe to their newsletter.
Note: Some of the links in this article are affiliated and may benefit Xataka Home
Prices and availability may change after publication