This little device is my secret to not being cold at home and saving light. Three minutes plugged in and generates heat for several hours
When it comes to achieving the optimal temperature at home, we have very different methods at home to make us have a comfortable environment. Radiators, heaters, aerothermal systems, heat pumps, some more innovative and others, like this one that we are going to see now, something more personal.
It is about this heat accumulator, a small device that we have been using at home for a few weeks and that allows heating an area of ​​the home, with the advantage that it does not have to be permanently plugged in. It only takes a few minutes connected to the network, so that it can continue doing its job without having to be plugged in.
Heat without having to use plugs
The truth is that until a month ago I had never heard of this type of "pots", so its use has surprised me even more. For those to whom it happens like me, I am going to explain a little above what does this device consist of.
A heat accumulator is an appliance that It is used to store thermal energy and release it at times when it is needed.. A device made of a material that retains heat, such as ceramic or stone, and that can be used as a home heating system.
It is a small "jalopy" that we can have to warm the bed before going to sleep, our workplace or the sofa when we go to see a movie. Many will think that electric blankets are already there, but unlike these, with a heat accumulator, it is not necessary that it is plugged in all the time. It is enough to have it connected to the electrical network for three minutes so that the resistance inside it reaches the appropriate temperature and then it releases that accumulated heat for several hours.
What we do, is to use the accumulator when we are going to be at home for a while so that in this way during those three hours (more or less) it emits enough heat so that we don't get cold with the advantage that we don't have to worry about it being plugged in. It is a use similar to the one we give to a hot water bottle. For example, one of the uses I give it is before going to sleep, when it's very cold, placing it between the sheets once unplugged, so that when I go to bed the bed is warm for a long time.
Unlike an electric blanket that must be on yes or yes all the time you use it, with the consequent expense, you plug the accumulator in for three minutes and forget
A heat accumulator has a series of advantages, among which stand out the fact that by not having to be permanently plugged in, will not cause an increase in energy consumption and therefore, the fact that we get a scare when we receive the electricity bill. With only three minutes plugged in, we are going to notice an increase in energy consumption at home.
This model has a power of 550W, much lower resistance than many stoves that we can find on the market to cite just one example, with the added advantage that you only need to be connected for three minutes. This translates into only 0.55 Kwh and we will not have to pay more than about 16 cents for having it plugged in for those minutes, taking into account a price of 0.30 cents per Kwh.
Furthermore, given its small size, we can use it almost anywhere in the home. With the precaution of covering it with a cloth that insulates it, since when it begins to give off heat it can become somewhat annoying, we can use it as we have said to heat the bed or also the sofa in which we are covered with the blanket or even in the table bed if we do not have a radiator or brazier.
We see how this type of device has a positive part, but not everything will be advantages. And it is that among the dogs that we can put, we find ourselves with excessive heat at the moment in which we unplug it.
a heat accumulator does not have a thermostat or temperature regulator, so that all the heat is released without us being able to control the way in which it is released. In this case, the ideal is to surround it with a small blanket (despite the fact that the accumulator includes a cover) to prevent the metal surface from bothering us. Time passes, the heat decreases, ceasing, definitively around three hours.
Until then at home we had used more traditional methods. From hot water bottles, to those little sacks filled with grains that are heated in the microwave. The difference is that the heat generated by the accumulator persists for longer than these other examples.
In this case, it is an interesting purchase, especially since we found it on sale during Black Friday. Also, It is a compact and portable deviceso that we can take it wherever it is needed and also offers quite contained energy consumption, as it does not have to be constantly plugged in.
ARDES – AR071A Sole Mio Electric Heater 550W with Indicator Light, Ardes Electric Heater Warms Feet Hands Rechargeable and Portable, Plush Warmer Cover
for less than 400 euros on Amazon
Not long ago, Toshiba televisions began to integrate the Amazon Fire TV software, so this Smart TV Toshiba 55UF3D63DA It has its own multimedia center, a 55-inch screen, and good features. Now it is at a minimum price in Amazon for 369.99 euros, compared to 429.99 euros for its previous price.
Toshiba 55UF3D63DA Smart TV Fire TV 55 Inch (4K Ultra HD, HDR10, Prime Video, Netflix, Alexa Voice Control, HDMI 2.1, Low Latency for Gaming, Bluetooth, USB, Onkyo Sound, Airplay)
A 55-inch Smart TV with Dolby Vision and 20W of sound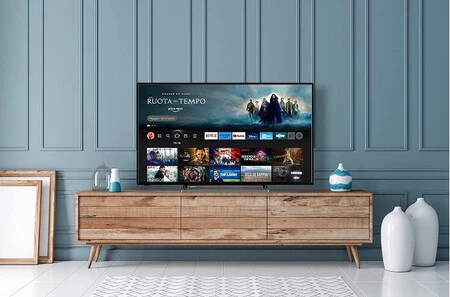 This Toshiba Smart TV has a 55 inch screenwith 4K resolution at 60 Hz and LED panel. It is compatible with high dynamic range formats such as the popular Dolby Vision and TRU Picture technology that provides fluid images with more detail.
As for the sound, it offers 20W of power, distributed in two speakers compatible with Dolby Vision. In addition, it has 3 HDMI inputs and 2 USB ports. As long as your operating system is fire OSthe same one that we find in Amazon's Fire TV, so you will have a wide catalog of applications and the Alexa voice assistant.
Images: Amazon.
Shipping & Returns
Shipments on Amazon have a cost of 3.99 euros but are free on purchases over 29 euros. Also, customers Prime They have free shipping. If you are not yet try it free for 1 month.
you have 30 days for free returns on all items sold/shipped by Amazon.
Note: Some of the links in this article are affiliated and may benefit Xataka Home
Prices and availability may change after publication
It is very practical, it has a drawer and at an irresistible price
Having our computer monitor at a recommended height is necessary for the health of our back and, if it is beautiful on top and with an extra drawer, much better. That is the case of the monitor stand ELLOVEN of Ikea best seller and that is now greatly reduced by 19.99 euros, the Ikea family price, when its original price is 29.99 euros.
ELLOVEN monitor base with drawer, white
A comfortable, practical and beautiful monitor base
Working from home comfortably is very necessary, especially if you spend many hours in front of the computer. That's why this monitor stand has a height 10cmideal to help relieve tension in the neck and shoulders.
In addition, it has a drawer to store whatever you need, such as diaries or pens, and a hole below perfect to hide the keyboard. It also has a hole in the back so you can keep your cables organized for a clutter-free desktop.
On the other hand, its design combines natural materials like bamboo that provides warmth and creates a beautiful contrast with the white aluminum structure. Its measurements are 47 x 26 x 10 cm and it supports up to 20 kilos.
Images: Ikea and Ikea by Xataka.
Shipping & Returns
shipments in IKEA from 3 euro. You can also pick up your purchases with Click & Collectin IKEA stores and ticket offices, free if the amount of your purchase exceeds 100 euros.
You have a period of 365 days for returns. You have more information on the IKEA website.
Note: Some of the links in this article are affiliated and may benefit Xataka Home
Prices and availability may change after publication
the Mi Vacuum Cleaner G10 that cleans and vacuums in a single pass (and reduced)
If you've ever wanted a Dyson stick vacuum, but it seems too expensive, then this model My Vacuum Cleaner G10 It is ideal for you, since it has similar characteristics and at a lower price. In MediaMarkt You can find it reduced by 199.99 euros, compared to 299.99 euros of its official price.
Broom vacuum cleaner – Xiaomi Mi Vacuum Cleaner G10, 600 W, Autonomy 65 min, Wireless, 3000 mAh, 0.6 l, White
This Mi Vacuum Cleaner G10 broom vacuum cleaner has it all: good power, autonomy and several brushes included
The Mi Vacuum Cleaner G10 has a minimalist and elegant design, with an ergonomic handle that makes it easy to grip. It has a 150W suction power thanks to its 125,000 rpm brushless motor. It also has a color TFT screen, with HD resolution, where you can see the cleaning status or the remaining battery level.
One of its most interesting features is that it has an intelligent brush that adjusts according to the floor, thus changing the cleaning speed, saving battery life. In addition, it can act as broom vacuum cleaner, handheld and as a mopsince it has a magnetic water tank that allows you to vacuum and clean everything at the same time.
On the other hand, it has great autonomy thanks to its 3,000 mAh battery, enough to clean the entire house without recharging. can reach the 65 minutes of use on a single charge with standard suction power.
Also included in the package: 1x lengthened connecting tube, 1x 2-in-1 brush, 1x flat nozzle, 1x small brush1x adapter, 1x water tank, 1x mop, 1x power adapter, 1x user manual.
Images: Xiaomi.
Shipping & Returns
In MediaMarkt shipments are free on purchases over 49 euros (except bulky products). You can also pick up your order, free of charge, in all its stores. You have 30 days for returns. You have more information on the MediaMarkt website. In addition, you get a 10 euro discount if you subscribe to their newsletter.
Note: Some of the links in this article are affiliated and may benefit Xataka Home
Prices and availability may change after publication