I have tried the tricks that the OCU recommends to avoid getting cold at home without wasting electricity and this is what has happened to me
When winter arrives and the first cold weather makes an appearance, it is time to prepare our home so that it has the optimal temperature so that it is comfortable. The usual thing is to use devices that allow heating the home, but seeing the price at which energy is, there are Other alternatives that can provide us with significant savings on the bill each month.
Is about practical solutions, some of them very easy and logical at the time of implementation, which make it easier for our house or a room to keep the right temperature. Control heat losses and cold from the street with some methods that we can all apply at home and that are reflected in the OCU to save on the bill. And following these steps, this has been my experience.
Using what we have on hand
Before continuing, I have to say that to be honest, when we renovated our house five years ago, we invested a lot of money in improve insulation, both in the form of windows, as well as walls, ceilings and doors. With this investment, important on the other hand, we managed to ensure that the average temperature at home does not drop below 17° in winter, and this taking into account that in my city the winter temperature is usually low.
Starting from this base, the idea is to maintain a good temperature at home without having to use the heatingeither in my case by means of radiators, pump, heat or pulling a stove.
For this reason, I have decided to try some of the tricks and methods that the OCU offers on its website. A series of recommendations with which to optimize the temperature that I have at home without having to use, or at least doing so as little as possible, heating systems and thus save on the electricity bill.
natural light and insulation
In the first idea it is take advantage of natural light and sun. If our home has any of the rooms oriented so that they receive natural light, we must leave the blinds up and the windows closed, so that the sun acts as a natural radiator. In this way, the star king will achieve that our house has a kind of greenhouse effectat least in the hours, in which the sun's rays are stronger directly affect it.
In my case, and leaving aside these days of water, It is at noon when the sun shines intensely in winter, in living room and bedroom. A good way to put into practice this system that they comment on at the OCU of creating a kind of greenhouse with sunlight. During that time, approximately an hour and a half, the blinds are up and the windows are closed, so all you have to do is put your hand on the parquet floor or move closer to that part of the room to notice how the temperature is higher.
And related to windows, it is important to ventilate the house. The same as to refresh it in summer, to avoid condensation on the windows or the appearance of humidity, At home I open the windows when I get up and thus I help purify the air, renewing itself inside and then, when closing them, recreating a sealed space that does not lose temperature, since it is not necessary to open them the rest of the day.
If the closures and windows are good, this measure is dispensable, but if they do not fit well, a good idea is to use weather stripping on doors and windows. In fact, we already saw an example in this accessory that Lidl sells. They are small pieces of plastic that are placed on the door or window and block the air intake, preventing heat from being lost on the one hand and at the same time blocking the entry of cold air from outside. At home, in fact, we put a weatherstripping that serves as a sealant for the apartment door to prevent cold air from entering.
In addition, a good method that is always effective is to close the doors of the rooms in which we do not live. And I explain. In my case, for example, I spend my life in the living room and in the bedroom, leaving a part of the house almost unused. That's why I close those doors so that the heat is retained in "inhabited" areas without producing a transfer effect.
Even in the room where my dog ​​sleeps, I close the door so that the heat remains more collected. And for example, when we are in the living room at night, watching TV, we close the door that leads to the corridor so that the heat generated is not lost in a wasted space.
rugs everywhere
In my particular case, I have hardwood at home and a pet, which is a dangerous combination if I want to use carpet. The floor is well insulated and since the heating pipes pass underneath, when I use it occasionally it achieves a heated floor effect.
However, in my parents' house, where they use marble on the floor, they do use rugs. What's more, after reading these tips, the idea was to also take the rugs to other rooms in which my nephews play so they could be on the floor without having to be cold and without having to put on the heating. In fact, even on the beach floor, they decided to put rugs to achieve a more welcoming and warm environment.
With the use of rugs and with the arrival of cold, the rooms, corridor and living room are covered and do not allow contact with the ground, so that the cold transmitted by the floor of the house is mitigated and more warmth is achieved and for example, children can play with only their socks without getting cold. In addition, it is an economical remedy that at the same time serves to complete the decoration of the house.
In the OCU they recommend using dark colored curtains. And in this section I have to disagree, at least from my experience. It is true that, in winter, using curtains with dark tones can favor the absorption of solar radiation, but in summer, in a city like mine, with extreme temperatures, using this type of curtains can turn the house into an oven. In my case, I use light-colored blinds, thinking especially of summer, and it is not a matter of changing the color of the curtains depending on the time of year in which we find ourselves.
An exemplary measure that I have always followed is to wear the right clothes. Just like in summer I don't put on the air conditioning and I wear long sleeves, In winter I don't intend to go home in short sleeves and shorts either. and in this way I was almost forced to turn on the heating.
According to the OCU, lowering the thermostat from 24ºC to 21ºC will save you 20%. And it is that each degree less translates into 7% less on the bill. A long sleeve, socks, cloth slippers, even a dressing gown, can be the best ally to save on the electricity bill. Pajamas, long-sleeved or clothes to be warm at home, it is something that is never missing in my closet.
If you have radiators at home, the best thing you can do is prepare them beforehand and use them. It is about making them work efficiently and for that the ideal is bleed the radiators And by the way, and if possible, carry out a revision of the boiler. In fact, it's something I've already done this year at home even though I've only used the heating once.
When bleeding air from radiators, Boiler performance is improved and that the heat is distributed evenly over the entire surface of the radiator.

Similarly, when it comes to minimizing energy consumption, there are other alternatives that I use to maintain the temperature at home. I have explained how a battery that is plugged in for only three minutes serves as a heat source for several hours. Another method with which to generate heat economically and that I have at home are the bags of water that we can buy in many shops and that offer a heat that is released progressively with which we can maintain a good temperature while we rest or work. . In fact, on many occasions, I have a hot water bottle nearby when I am working sitting in front of the computer.
Everything works
In summary and by way of conclusion, we can say that all these measures have been effective. A few very simple steps to carry out without having to resort to heating systems, either gas or electricity and thus save on the electricity bill. Many of them, such as the use of sunlight or appropriate clothing, are very logical criteria that do not escape most of the population, but whose application should always be remembered.
It also works to look for adequate insulation of the house beyond what we can achieve with a reform. The use of aids in the form of insulators, which also, like curtains or carpets They serve as decoration, it is something really practical and easy to implement.
for less than 400 euros on Amazon
Not long ago, Toshiba televisions began to integrate the Amazon Fire TV software, so this Smart TV Toshiba 55UF3D63DA It has its own multimedia center, a 55-inch screen, and good features. Now it is at a minimum price in Amazon for 369.99 euros, compared to 429.99 euros for its previous price.
Toshiba 55UF3D63DA Smart TV Fire TV 55 Inch (4K Ultra HD, HDR10, Prime Video, Netflix, Alexa Voice Control, HDMI 2.1, Low Latency for Gaming, Bluetooth, USB, Onkyo Sound, Airplay)
A 55-inch Smart TV with Dolby Vision and 20W of sound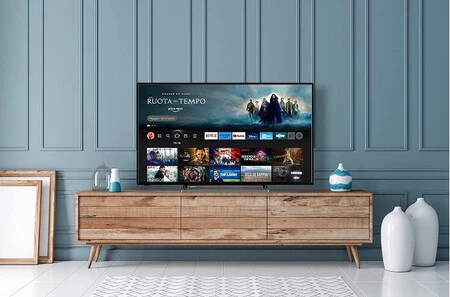 This Toshiba Smart TV has a 55 inch screenwith 4K resolution at 60 Hz and LED panel. It is compatible with high dynamic range formats such as the popular Dolby Vision and TRU Picture technology that provides fluid images with more detail.
As for the sound, it offers 20W of power, distributed in two speakers compatible with Dolby Vision. In addition, it has 3 HDMI inputs and 2 USB ports. As long as your operating system is fire OSthe same one that we find in Amazon's Fire TV, so you will have a wide catalog of applications and the Alexa voice assistant.
Images: Amazon.
Shipping & Returns
Shipments on Amazon have a cost of 3.99 euros but are free on purchases over 29 euros. Also, customers Prime They have free shipping. If you are not yet try it free for 1 month.
you have 30 days for free returns on all items sold/shipped by Amazon.
Note: Some of the links in this article are affiliated and may benefit Xataka Home
Prices and availability may change after publication
It is very practical, it has a drawer and at an irresistible price
Having our computer monitor at a recommended height is necessary for the health of our back and, if it is beautiful on top and with an extra drawer, much better. That is the case of the monitor stand ELLOVEN of Ikea best seller and that is now greatly reduced by 19.99 euros, the Ikea family price, when its original price is 29.99 euros.
ELLOVEN monitor base with drawer, white
A comfortable, practical and beautiful monitor base
Working from home comfortably is very necessary, especially if you spend many hours in front of the computer. That's why this monitor stand has a height 10cmideal to help relieve tension in the neck and shoulders.
In addition, it has a drawer to store whatever you need, such as diaries or pens, and a hole below perfect to hide the keyboard. It also has a hole in the back so you can keep your cables organized for a clutter-free desktop.
On the other hand, its design combines natural materials like bamboo that provides warmth and creates a beautiful contrast with the white aluminum structure. Its measurements are 47 x 26 x 10 cm and it supports up to 20 kilos.
Images: Ikea and Ikea by Xataka.
Shipping & Returns
shipments in IKEA from 3 euro. You can also pick up your purchases with Click & Collectin IKEA stores and ticket offices, free if the amount of your purchase exceeds 100 euros.
You have a period of 365 days for returns. You have more information on the IKEA website.
Note: Some of the links in this article are affiliated and may benefit Xataka Home
Prices and availability may change after publication
the Mi Vacuum Cleaner G10 that cleans and vacuums in a single pass (and reduced)
If you've ever wanted a Dyson stick vacuum, but it seems too expensive, then this model My Vacuum Cleaner G10 It is ideal for you, since it has similar characteristics and at a lower price. In MediaMarkt You can find it reduced by 199.99 euros, compared to 299.99 euros of its official price.
Broom vacuum cleaner – Xiaomi Mi Vacuum Cleaner G10, 600 W, Autonomy 65 min, Wireless, 3000 mAh, 0.6 l, White
This Mi Vacuum Cleaner G10 broom vacuum cleaner has it all: good power, autonomy and several brushes included
The Mi Vacuum Cleaner G10 has a minimalist and elegant design, with an ergonomic handle that makes it easy to grip. It has a 150W suction power thanks to its 125,000 rpm brushless motor. It also has a color TFT screen, with HD resolution, where you can see the cleaning status or the remaining battery level.
One of its most interesting features is that it has an intelligent brush that adjusts according to the floor, thus changing the cleaning speed, saving battery life. In addition, it can act as broom vacuum cleaner, handheld and as a mopsince it has a magnetic water tank that allows you to vacuum and clean everything at the same time.
On the other hand, it has great autonomy thanks to its 3,000 mAh battery, enough to clean the entire house without recharging. can reach the 65 minutes of use on a single charge with standard suction power.
Also included in the package: 1x lengthened connecting tube, 1x 2-in-1 brush, 1x flat nozzle, 1x small brush1x adapter, 1x water tank, 1x mop, 1x power adapter, 1x user manual.
Images: Xiaomi.
Shipping & Returns
In MediaMarkt shipments are free on purchases over 49 euros (except bulky products). You can also pick up your order, free of charge, in all its stores. You have 30 days for returns. You have more information on the MediaMarkt website. In addition, you get a 10 euro discount if you subscribe to their newsletter.
Note: Some of the links in this article are affiliated and may benefit Xataka Home
Prices and availability may change after publication