How to have an Amazon Fire TV Stick and make it look like a Chromecast by installing Android 11: this is how you can do it
If you ask me about a cheap device with which to turn any television into a complete Smart TV, one of the alternatives that I would always recommend It would be one of the Fire TV Stick models that we can find on the market. One of the most powerful if we find it at a good price. It is that option or a Chromecast with Google TV, its main rival in quality price.
The problem is that while the Chromecast with Google TV was recently updated and is already using Android 12, The operating system that Amazon's Fire TV mounts is anchored in time. A lack of updates that does not prevent its proper functioning, but that may be tempting for some users to dare to install a more recent version of Android as we are now going to see.
From Fire TV OS to Android 11
To begin with, it must be borne in mind that a Fire Stick TV is a streaming device that uses an Android-based operating system (different from Google Chromecast) and that has been customized specifically for the Amazon deviceto give access to services and platforms, among which those of the electronic commerce giant always stand out.
And although the Fire TV operating system does not work badly, it is no less true that its interface is not the most appropriate. And although the tastes go by neighborhoods, I personally find that it offers too much advertising and an unpleasant design that makes it easier for us to often find the application we are looking for.
In this sense, at XDA Developers they have gotten to work and have provided the tools to install Android TV on an Amazon Fire TV, specifically version 11 of Google's operating system. Something that is possible thanks to an unofficial ROM of LineageOS 18.1.
As always when it comes to "playing" with a ROM, we must be careful, because among other aspects it requires unlocking the Bootloader, which means the loss of the manufacturer's warranty, in this case Amazon and the installation of a custom Recovery. Also, as they already commented on AV Pasion, this ROM has a bug with Netflix, so every time a movie ends you have to restart your computer.
That being said, there are a few preliminary observations to make. For example, the Fire TV Stick on which Android 11 is to be installed cannot have a newer operating system version than Fire OS 7.2.7.3. It must be that or a lower one. The process works for Fire TV Stick and Fire TV Stick Lite 3rd generation.
Remember that you can check what version of the operating system your Fire TV is using by entering the "Settings" that appear in the form of a wheel, toothed to the right of the first row and then clicking on the "My Fire TV" section and on "About of".
That being said, the process is not overly simple. It's not about installing an app on Fire TV and having it act like magic. In order to apply these changes You will need a computer with a Linux distribution, a microUSB cable with which to connect the Fire TV Stick and this file. These are the steps:
Must reboot to recovery mode to install TWRP and it is done by opening "Terminal" (using the keyboard combination Ctrl + Alt + T) and then typing these instructions.
sudo apt update

sudo add-apt-repository universe

sudo apt install python3 python3-serial python3-usb adb fastboot dos2unix
Another necessary step is through disable or uninstall "ModemManager"something that requires typing these other commands in "Terminal":
sudo systemctl stop ModemManager

sudo systemctl disable ModemManager
With these steps taken, you must use the file you downloaded before (remember, this link) and unzip it.
Then, again you have to go to "Terminal" in the same directory where you have the uncompressed file and write this order:
On the screen you should now see "Waiting for device", at which point you should connect the Fire TV with the precaution that it is turned off and let the script you have written finish. If everything has gone well, the Fire TV Stick should reboot into state unlocked "fastboot" and then in Terminal type:
At that point, you have to wait for the device to reboot into TWRP (Team win Recovery Project), which makes it possible for us to install the ROM that we have mentioned before and that you can download from this link and the GApps in this other one.
In this way, the Amazon Fire TV Stick will go from using Fire OS with Android TV 11. However, as we say, it is a process that is not risk-free and that you must carry out at your own risk.
Via | AVPassion
More information | XDA Developers
for less than 400 euros on Amazon
Not long ago, Toshiba televisions began to integrate the Amazon Fire TV software, so this Smart TV Toshiba 55UF3D63DA It has its own multimedia center, a 55-inch screen, and good features. Now it is at a minimum price in Amazon for 369.99 euros, compared to 429.99 euros for its previous price.
Toshiba 55UF3D63DA Smart TV Fire TV 55 Inch (4K Ultra HD, HDR10, Prime Video, Netflix, Alexa Voice Control, HDMI 2.1, Low Latency for Gaming, Bluetooth, USB, Onkyo Sound, Airplay)
A 55-inch Smart TV with Dolby Vision and 20W of sound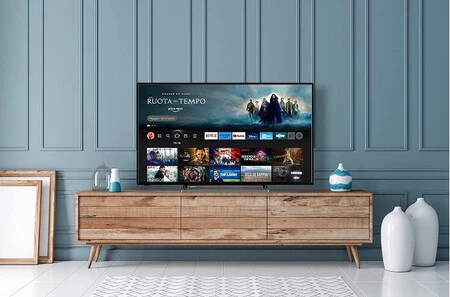 This Toshiba Smart TV has a 55 inch screenwith 4K resolution at 60 Hz and LED panel. It is compatible with high dynamic range formats such as the popular Dolby Vision and TRU Picture technology that provides fluid images with more detail.
As for the sound, it offers 20W of power, distributed in two speakers compatible with Dolby Vision. In addition, it has 3 HDMI inputs and 2 USB ports. As long as your operating system is fire OSthe same one that we find in Amazon's Fire TV, so you will have a wide catalog of applications and the Alexa voice assistant.
Images: Amazon.
Shipping & Returns
Shipments on Amazon have a cost of 3.99 euros but are free on purchases over 29 euros. Also, customers Prime They have free shipping. If you are not yet try it free for 1 month.
you have 30 days for free returns on all items sold/shipped by Amazon.
Note: Some of the links in this article are affiliated and may benefit Xataka Home
Prices and availability may change after publication
It is very practical, it has a drawer and at an irresistible price
Having our computer monitor at a recommended height is necessary for the health of our back and, if it is beautiful on top and with an extra drawer, much better. That is the case of the monitor stand ELLOVEN of Ikea best seller and that is now greatly reduced by 19.99 euros, the Ikea family price, when its original price is 29.99 euros.
ELLOVEN monitor base with drawer, white
A comfortable, practical and beautiful monitor base
Working from home comfortably is very necessary, especially if you spend many hours in front of the computer. That's why this monitor stand has a height 10cmideal to help relieve tension in the neck and shoulders.
In addition, it has a drawer to store whatever you need, such as diaries or pens, and a hole below perfect to hide the keyboard. It also has a hole in the back so you can keep your cables organized for a clutter-free desktop.
On the other hand, its design combines natural materials like bamboo that provides warmth and creates a beautiful contrast with the white aluminum structure. Its measurements are 47 x 26 x 10 cm and it supports up to 20 kilos.
Images: Ikea and Ikea by Xataka.
Shipping & Returns
shipments in IKEA from 3 euro. You can also pick up your purchases with Click & Collectin IKEA stores and ticket offices, free if the amount of your purchase exceeds 100 euros.
You have a period of 365 days for returns. You have more information on the IKEA website.
Note: Some of the links in this article are affiliated and may benefit Xataka Home
Prices and availability may change after publication
the Mi Vacuum Cleaner G10 that cleans and vacuums in a single pass (and reduced)
If you've ever wanted a Dyson stick vacuum, but it seems too expensive, then this model My Vacuum Cleaner G10 It is ideal for you, since it has similar characteristics and at a lower price. In MediaMarkt You can find it reduced by 199.99 euros, compared to 299.99 euros of its official price.
Broom vacuum cleaner – Xiaomi Mi Vacuum Cleaner G10, 600 W, Autonomy 65 min, Wireless, 3000 mAh, 0.6 l, White
This Mi Vacuum Cleaner G10 broom vacuum cleaner has it all: good power, autonomy and several brushes included
The Mi Vacuum Cleaner G10 has a minimalist and elegant design, with an ergonomic handle that makes it easy to grip. It has a 150W suction power thanks to its 125,000 rpm brushless motor. It also has a color TFT screen, with HD resolution, where you can see the cleaning status or the remaining battery level.
One of its most interesting features is that it has an intelligent brush that adjusts according to the floor, thus changing the cleaning speed, saving battery life. In addition, it can act as broom vacuum cleaner, handheld and as a mopsince it has a magnetic water tank that allows you to vacuum and clean everything at the same time.
On the other hand, it has great autonomy thanks to its 3,000 mAh battery, enough to clean the entire house without recharging. can reach the 65 minutes of use on a single charge with standard suction power.
Also included in the package: 1x lengthened connecting tube, 1x 2-in-1 brush, 1x flat nozzle, 1x small brush1x adapter, 1x water tank, 1x mop, 1x power adapter, 1x user manual.
Images: Xiaomi.
Shipping & Returns
In MediaMarkt shipments are free on purchases over 49 euros (except bulky products). You can also pick up your order, free of charge, in all its stores. You have 30 days for returns. You have more information on the MediaMarkt website. In addition, you get a 10 euro discount if you subscribe to their newsletter.
Note: Some of the links in this article are affiliated and may benefit Xataka Home
Prices and availability may change after publication