Houston, we have a problem. The connected home is of no use when this device that we all have at home fails
Our mouths fill up when we talk about the connected home, about all the synchronized devices, so that we can create routines that make our day-to-day easier, that we can control what happens at home, even if we are absent thanks to our mobile … but if we look closely, in this equation there is a point that perhaps we overlook and it is a fundamental element, without which Our entire connected home can collapse like a house of cards..
No matter how many applications we have on the phone, even if we use a bridge or Hub as the brain of the connected home, everything ends up going through our router and this can be a bottleneck. And when we have adapted the house to work thanks to the Internet, the fact that our router catches a "cold" can be a problem and a fat one that loads our Wi-Fi connection.
When Wi-Fi fails
It is not something hypothetical. We are all potential victims of a rogue router or simply from an astral conjunction in which the device that connects us to the Internet fails at the same time that our operator does not respond in the most appropriate way. It doesn't offer adequate WiFi speed and I couldn't use alternatives to fix it. It is the perfect storm.
In fact, in this article I am going to detail my personal experience when i found how the router fails (it's an old HGU) and how, given the impossibility of replacing it within a normal period due to my operator, I've seen how I can't access some streaming video service, or how lighting systems fail at home.
Little by little at home, I have been incorporating different connected devices. On occasion I have talked about the speakers, but I also have different plugs, surveillance cameras or LED lighting systems, both in the form of light bulbs and strips with which to create ambient lighting at home. And they all have in common that They work by connecting directly to the router.without the need for a bridge or hub.
For some time now, I have noticed that when it comes to playing 4K HDR content on some platforms, the tv was experiencing cuts. Faults that I blamed on the platform, but a few days ago I discovered that they were due to a problem with my router, something that I confirmed after contacting the customer service of my operator.
And yes, I know that to perform speed measurements, the ideal is to use the cable, but since I can't have all the devices connected by cable, I have to pull Wi-Fi connectivity. And if in my case, the speed offered by the cable and my connection is 1 Gbps, with Wi-Fi and measuring with a device located next to the router, I don't get more than 90 Mbps.
Practical example. Updating the wired iMac via Wi-Fi at home took me 3 hours, while at a relative's house, also with 1 Gbps and in another room, it took just over 15 minutes.
We talk about 90 Mbps within 10 centimeters of the router, so let's imagine in an adjoining room. The TV does not reach enough power, and in many cases, the devices that I have connected tell me that they have connectivity problems. Logical step, turn off and on the router, but the failure is reproduced almost instantly.
In day-to-day use, all this is manifested in that, for example, I can't access Disney+, since I am getting error 83 (due to a slow connection or because the Disney+ servers are saturated) and outages with HBO Max. But these are minor problems.
A router in default has asked me to use some connected lights. In the best of cases, some of them have Bluetooth connectivity, so that I can use my mobile as a remote control to manage them. But others rely exclusively on Wi-Fi, so I had to end up using the switch and rummaging through drawers, traditional light bulbs to put in while troubleshooting.
I have stopped using the plugs and power strips on a regular basis, since they do not assure me that they have to respond at the moment in which I need them. Only the speakers, or at least the ones near the router, allow me to continue listening to streaming music without problems.
Solutions… yes, but no
I can be thankful that I don't have connected appliances or more devices that rely on the use of the Internet. Right now at home only the console and the Mac, both connected by cable, work without problem, taking advantage of the full potential of my Internet connection. The rest is a cross your fingers and a grind of teeth every time I have to use them.
A possible solution to such nonsense could be to set up a mesh network system or mesh networks at home, something that I have said I have spoken with a colleague who has suggested it to me. The problem is that at home doesn't count right now (or not at least until we paint and do work) with the necessary plugs to be able to distribute satellites in different locations. That would be the best option.
Another possibility would be use a second router that will be in charge of distributing the network at home, something that has already been approved and has not offered the expected results, since the two models that I have tested offered very limited coverage and therefore I had to end up using repeaters. Using PLC's or repeaters is something that I have also rejected.
In the end, All this chain of nonsense has led me to change my operator In procedures that I will start on Monday. Leaving aside that I don't know which router they will install, at least I hope it works correctly.
for less than 400 euros on Amazon
Not long ago, Toshiba televisions began to integrate the Amazon Fire TV software, so this Smart TV Toshiba 55UF3D63DA It has its own multimedia center, a 55-inch screen, and good features. Now it is at a minimum price in Amazon for 369.99 euros, compared to 429.99 euros for its previous price.
Toshiba 55UF3D63DA Smart TV Fire TV 55 Inch (4K Ultra HD, HDR10, Prime Video, Netflix, Alexa Voice Control, HDMI 2.1, Low Latency for Gaming, Bluetooth, USB, Onkyo Sound, Airplay)
A 55-inch Smart TV with Dolby Vision and 20W of sound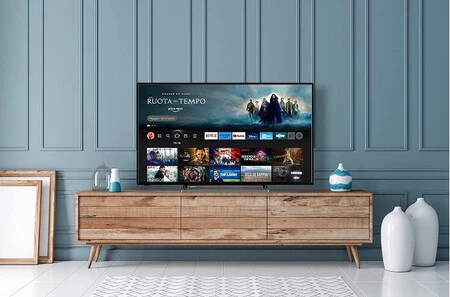 This Toshiba Smart TV has a 55 inch screenwith 4K resolution at 60 Hz and LED panel. It is compatible with high dynamic range formats such as the popular Dolby Vision and TRU Picture technology that provides fluid images with more detail.
As for the sound, it offers 20W of power, distributed in two speakers compatible with Dolby Vision. In addition, it has 3 HDMI inputs and 2 USB ports. As long as your operating system is fire OSthe same one that we find in Amazon's Fire TV, so you will have a wide catalog of applications and the Alexa voice assistant.
Images: Amazon.
Shipping & Returns
Shipments on Amazon have a cost of 3.99 euros but are free on purchases over 29 euros. Also, customers Prime They have free shipping. If you are not yet try it free for 1 month.
you have 30 days for free returns on all items sold/shipped by Amazon.
Note: Some of the links in this article are affiliated and may benefit Xataka Home
Prices and availability may change after publication
It is very practical, it has a drawer and at an irresistible price
Having our computer monitor at a recommended height is necessary for the health of our back and, if it is beautiful on top and with an extra drawer, much better. That is the case of the monitor stand ELLOVEN of Ikea best seller and that is now greatly reduced by 19.99 euros, the Ikea family price, when its original price is 29.99 euros.
ELLOVEN monitor base with drawer, white
A comfortable, practical and beautiful monitor base
Working from home comfortably is very necessary, especially if you spend many hours in front of the computer. That's why this monitor stand has a height 10cmideal to help relieve tension in the neck and shoulders.
In addition, it has a drawer to store whatever you need, such as diaries or pens, and a hole below perfect to hide the keyboard. It also has a hole in the back so you can keep your cables organized for a clutter-free desktop.
On the other hand, its design combines natural materials like bamboo that provides warmth and creates a beautiful contrast with the white aluminum structure. Its measurements are 47 x 26 x 10 cm and it supports up to 20 kilos.
Images: Ikea and Ikea by Xataka.
Shipping & Returns
shipments in IKEA from 3 euro. You can also pick up your purchases with Click & Collectin IKEA stores and ticket offices, free if the amount of your purchase exceeds 100 euros.
You have a period of 365 days for returns. You have more information on the IKEA website.
Note: Some of the links in this article are affiliated and may benefit Xataka Home
Prices and availability may change after publication
the Mi Vacuum Cleaner G10 that cleans and vacuums in a single pass (and reduced)
If you've ever wanted a Dyson stick vacuum, but it seems too expensive, then this model My Vacuum Cleaner G10 It is ideal for you, since it has similar characteristics and at a lower price. In MediaMarkt You can find it reduced by 199.99 euros, compared to 299.99 euros of its official price.
Broom vacuum cleaner – Xiaomi Mi Vacuum Cleaner G10, 600 W, Autonomy 65 min, Wireless, 3000 mAh, 0.6 l, White
This Mi Vacuum Cleaner G10 broom vacuum cleaner has it all: good power, autonomy and several brushes included
The Mi Vacuum Cleaner G10 has a minimalist and elegant design, with an ergonomic handle that makes it easy to grip. It has a 150W suction power thanks to its 125,000 rpm brushless motor. It also has a color TFT screen, with HD resolution, where you can see the cleaning status or the remaining battery level.
One of its most interesting features is that it has an intelligent brush that adjusts according to the floor, thus changing the cleaning speed, saving battery life. In addition, it can act as broom vacuum cleaner, handheld and as a mopsince it has a magnetic water tank that allows you to vacuum and clean everything at the same time.
On the other hand, it has great autonomy thanks to its 3,000 mAh battery, enough to clean the entire house without recharging. can reach the 65 minutes of use on a single charge with standard suction power.
Also included in the package: 1x lengthened connecting tube, 1x 2-in-1 brush, 1x flat nozzle, 1x small brush1x adapter, 1x water tank, 1x mop, 1x power adapter, 1x user manual.
Images: Xiaomi.
Shipping & Returns
In MediaMarkt shipments are free on purchases over 49 euros (except bulky products). You can also pick up your order, free of charge, in all its stores. You have 30 days for returns. You have more information on the MediaMarkt website. In addition, you get a 10 euro discount if you subscribe to their newsletter.
Note: Some of the links in this article are affiliated and may benefit Xataka Home
Prices and availability may change after publication