features, price and technical sheet
When it comes to interconnecting many of the elements of the connected home, a fundamental device is a Hub or what amounts to a switchboard that acts as a brain or central node that It is used for all devices to connect to the network. And the last brand to announce news about it is SwitchBot.
A firm that has its catalog from thermometers, connected, switches to turn the light on or off, curtain motors… and to which a new Hub has now been added. SwitchBot has announced its new hub in the form of the SwitchBot HUb 2.
With Matter and thermohygrometer
It is the second version of the device that serves so that all the elements of the brand connect to the network and can communicate with each other and with other smart devices that we have at home.
The novelties with this version come because now the SwitchBot Hub 2 is compatible with HomeKit and matter. In addition, they assure, it will be able to work with the rest of the devices that the brand currently has in its catalog thanks to the corresponding firmware updates. The first of them to be supported will be the SwitchBot curtain motor through an update that will be released at the end of February 2023 to later reach more products.
But leaving aside the functionalities, the new SwitchBot Hub 2 features a major design change. And it is that while the previous model was a small square box, in which only one white LED stood out from the rest, now the SwitchBot Hub 2 integrates an LCD screen that acts as a thermo-hygrometer and that allows to measure the temperature and the humidity. Therefore, as now, there is no need for a separate HUB and thermo-hygrometer. The new Hub 2 also has a built-in light sensor that automatically adjusts the brightness of the screen to the lighting conditions.
The new Hub 2 has seen how infrared control function is improvedwhich for example can be used to interact with remote controls, televisions or air conditioning systems and now they announce that it has a greater range.
Price and availability
For now the brand has not given a price and release date for the new SwitchBot Hub 2, a device that we can see for the first time at CES in Las Vegas which starts in a few hours. If we want to guess what the price may be, just look at the cost of the Hub Mini that they have in their catalog and that can be found for 35 euros.
SwitchBot-Hub Mini | Intelligent control, infrared | Link to Wi-Fi | Compatible with Alexa, Google Home, Siri, IFTTT | Control: light, television, Air Conditioning, Robot vacuum cleaners, etc.
Via | Homekits.de
They acknowledge that the broadcasts had no encryption
Anker has shown us in recent months that when a security camera manufacturer claims that the recordings are only stored locally, you have to be wary. The firm has been the protagonist of one of the latest scandals in terms of home security. And it is that several users affirmed be able to see the broadcasts of your Anker Eufy security cameras from any device using a player like VLC, assuming a serious security problem that would affect all users with this product.
Anker's commitment to "local only" video storage and "military-grade end-to-end encryption" quickly evaporated as people picked up on the news. Now the company has finally admitted that, indeed, their security cameras did not have end-to-end encryption natively. From Xataka Smart Home we have contacted Anker for more information about it, so we will update as soon as we know more details.
How any user could connect to the live broadcast of a Eufy security camera
The medium The Verge gave the manufacturer an ultimatum shortly after learning that, during Thanksgiving in the United States, Paul Moore, a security consultant, and a hacker who calls himself Wasabi in networks, were able to connect with a video stream from your Eufy security cameras through a player like VLC. All they had to do was broadcast live through the Eufy servers and connect to the stream via a unique address. This address could be obtained by entering the browser's debugging mode and extracting the link from the stream. Moore posted a video to explain the process in detail.
Ah well, the cats out the bag now… so may as well tell you.

You can remotely start a stream and watch @EufyOfficial cameras live using VLC. No authentication, no encryption.

Please don't ask for a PoC – I can't release this one.

heads up @TechLinkedYT @LinusTech https://t.co/sU3FyRaELX

—Paul Moore (@Paul_Reviews) November 25, 2022
This would have gone a bit more under the radar if Anker hadn't promoted its product as a device that stores video "locally" and has "end-to-end encryption." However, it seems that what they "missed" to encrypt were the live broadcasts that could be tracked from the eufy platform if a user logged in with their credentials (and anyone else if they had the address).
To summarize the problem, it's like you upload a video to YouTube as "hidden". In this way, no one will know that you have uploaded a video if you do not share the link, but the video is actually stored on the servers and is perfectly visible if someone gets the link to the video (not to mention that there are websites that collect videos in secret from YouTube).
Anker apologizes and already has solutions
As mentioned from The Verge, the company has finally admitted that its Eufy security cameras they did not have end-to-end encryption when it came to making a live broadcastbut the encryption happened when a video from the camera was stored.
The problem seems to be already solved for a good part of its users, since according to Anker, have upgraded their security cameras to WebRTC, application that uses encryption by default. However, as mentioned by The Verge, it is still possible that these cameras can still produce unencrypted broadcasts upon request. Below these lines are the statements of Eric Villines, global head of communications at Anker:
Previously, after accessing our secure web portal at eufy.com, a registered user could enter debugging mode, use the web browser's DevTool to locate the live stream, and then play or share that link with someone else to to reproduce it outside of our secure system. However, it would have been up to the user to share that link, and they would have needed to log into the eufy web portal first to get this link.
Today, based on industry feedback and out of an abundance of caution, the eufy Security web portal prohibits users from entering debugging mode, and the code has been hardened and obfuscated. Additionally, the streaming content is encrypted, which means that streams can no longer be played on third-party media players like VLC.
The company has also apologized for the lack of communication and has promised to improve its modus operandi. Anker has confirmed that he is hiring external security firms to audit Eufy's practices. In addition, the company is in talks with a "prominent and well-known security expert" to produce an independent report, further promising to develop a bounty program for detecting security flaws and a website to explain how its security works in detail.
Knowing the reports of external security companies will help the company to regain the reputation it had acquired with its products, since users would hardly trust it again on their own.
Cover Image | anker eufy
With Dolby Atmos and subwoofer, this LG sound bar is compact, powerful and now at a minimum price
Between the fact that some Smart TVs do not have enough sound power and that sound bars are usually quite large, having a compact and powerful bar is a plus. As is the case with this model LG Eclair QP5W which, on top of that, is now at a minimum price in Amazon for 276.22 euros, compared to 699 euros for its previous price.
LG QP5 – Compact Sound Bar, 320W Power, 3.1.2 Channels, Hi-Res Audio Sound, Dolby Atmos, DTS:X and HDMI eARC, Wide Connectivity, Absolute Sound, Color Black
The LG Éclair QP5W sound bar it is compact and powerful
This LG sound bar has a design minimalist and compact so it doesn't take up a lot of space. Although, despite its size, it does not sacrifice power, since it has a total of 320Wof 3.1.2 channels and, in addition, it has a wireless subwoofer to achieve good bass.
On the connectivity side, it has Bluetooth, optical input, HDMI, 4K pass-through and is also compatible with HDR10 and Dolby Vision, as well as Dolby Atmos. This sound bar has other sound Technologys such as Hi-Res and Meridian Sound Music, so that you feel part of every scene you see and hear, as if you were there.
Images: LG.
Shipping & Returns
Shipments on Amazon have a cost of 3.99 euros but are free on purchases over 29 euros. Also, customers Prime They have free shipping. If you are not yet try it free for 1 month.
you have 30 days for free returns on all items sold/shipped by Amazon.
Note: Some of the links in this article are affiliated and may benefit Xataka Home
Prices and availability may change after publication
for less than 400 euros on Amazon
Not long ago, Toshiba televisions began to integrate the Amazon Fire TV software, so this Smart TV Toshiba 55UF3D63DA It has its own multimedia center, a 55-inch screen, and good features. Now it is at a minimum price in Amazon for 369.99 euros, compared to 429.99 euros for its previous price.
Toshiba 55UF3D63DA Smart TV Fire TV 55 Inch (4K Ultra HD, HDR10, Prime Video, Netflix, Alexa Voice Control, HDMI 2.1, Low Latency for Gaming, Bluetooth, USB, Onkyo Sound, Airplay)
A 55-inch Smart TV with Dolby Vision and 20W of sound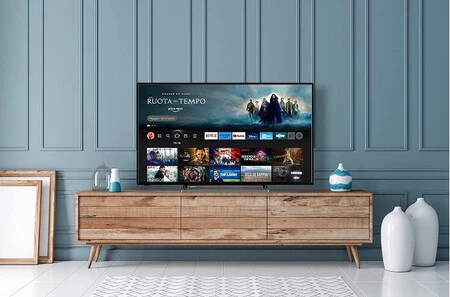 This Toshiba Smart TV has a 55 inch screenwith 4K resolution at 60 Hz and LED panel. It is compatible with high dynamic range formats such as the popular Dolby Vision and TRU Picture technology that provides fluid images with more detail.
As for the sound, it offers 20W of power, distributed in two speakers compatible with Dolby Vision. In addition, it has 3 HDMI inputs and 2 USB ports. As long as your operating system is fire OSthe same one that we find in Amazon's Fire TV, so you will have a wide catalog of applications and the Alexa voice assistant.
Images: Amazon.
Shipping & Returns
Shipments on Amazon have a cost of 3.99 euros but are free on purchases over 29 euros. Also, customers Prime They have free shipping. If you are not yet try it free for 1 month.
you have 30 days for free returns on all items sold/shipped by Amazon.
Note: Some of the links in this article are affiliated and may benefit Xataka Home
Prices and availability may change after publication